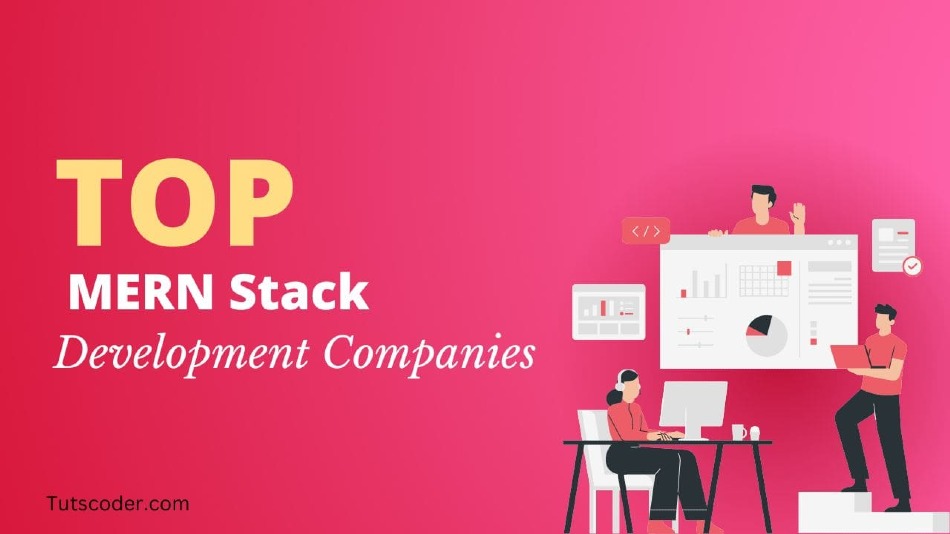 Top MERN Stack Development Companies
An individual or organization that specializes in mern stack development has a solid grasp of databases, networks, systems integration, frontend, and back-end computer languages.
You may need to design a web app, an app for a mobile device, or a computer program for your customer.
In worldwide the demand for mern stack development companies will be at an all-time peak in 2022.
What is the root of this? In summary, if you possess more skills in your field, you will be more beneficial to the market. We have simply listed the Top leading mern stack development companies for your convenience. But first, check lets us know about the MERN stack.
What is the MERN stack?
The Mern stack comprises four key components developers use to build web and mobile applications. It consists of MongoDB, ExpressJs, ReactJs, and Node.js. Let us know about these 4 elements of the mern stack.
MongoDB
App data is kept in the document-oriented, noSQL database MongoDB.
Express.js
An Open Source NodeJS framework, ExpressJS is used to create a website's backend utilizing NodeJS objects and functions.
React.js
A Facebook-based library. It is used to build UI elements that contribute to the consumer experience of single-page web applications.
Node.js
NodeJS is the operating system for JavaScript. Previously, JavaScript was run on machines rather than on browsers.
Benefits of using Mern Stack Development
It is more rapid and effective than conventional servers, making it suitable for small apps.
Enhanced customer experience, more sensitive to user inputs
The business logic and presentation details are kept apart in MVC design.
Both frontend and backend software development is supported by full stack development.
Troubleshooting information and CPU problems takes less time with a quick and reliable web server.
List of top 12 Mern Stack Development Companies Are As Follows:
Groovy Web
Top mern stack development company Groovy Web first entered the market in 2015. The company has employed more than 80+ IT specialists and has effectively completed more than 500 projects. As part of the company's mission, it believed in providing quality work within budget and promised time. Their mern stack developers have specialist knowledge in using frontend, backend, and database management frameworks to construct scalable solutions & top mern stack projects.
Taking advantage of their business base in India, they offer a wide range of services, including mobile app development, web development, UI/UX design, AI/ML, etc. They create highly configurable full-stack solutions by providing comprehensive mern stack development services to startups, small businesses, and corporations.
HireFullStackDeveloperIndia
They are well-versed in the relevant frontend, back-end, data systems, infrastructure, and framework technologies. They have a clearly-defined strategy in these areas. Their designers and developers were capable of stepping in at any stage of the development process & quickly helping resolve complicated problems. By using their resources efficiently, multitasking may save a lot of money and time.
They provide outstanding full-stack development services to companies of all sizes. The business is renowned for producing the best business results and assisting clients in more efficient monetization. In their efforts to improve software product engineering, they have successfully delivered more than 650 industry-specific software solutions and revolutionized more than 400 organizations.
Appstudio
The most well-known company offering MERN Stack Development services is Appstudio. ExpressJS, ReactJS, MongoDB, and NodeJS are all familiar to our MERN stack app developers. The goal of technologies is to benefit from using a unified platform for numerous technologies.
Their MERN Stack developer combines cutting-edge frameworks and technologies with the knowledge to serve international clients across markets. In order to give you something better while taking up less time & room, they believe in developing their skills in various approaches.
Brainvire Infotech Inc
The cutting-edge software and full-stack development services of Brainvire Infotech Inc. continue to meet the needs of startups and companies around the world. The frontend programming languages that their frontend developers are proficient in include HTML/CSS, JavaScript, VueJS, ReactJS, and others.
Backend developers use programming languages and frameworks, including SQL, Java, Python, Laravel, and others. You get a highly qualified IT workforce, agile mindsets, quick and timely service, and clever solutions when you work with the company.
The business provides full support, from conceptualization to product delivery. Its team includes 120+ experts knowledgeable in all the newest and most popular technologies for developing websites and mobile applications.
Zignuts Technolab
Zignuts Technolab specializes in developing full-stack solutions. They can help you build unique and business-centered Native & Cross-platform mobile apps for multiple platforms like iOS and Android. With in-depth technical expertise and relevant industry experience, Zignuts enables you to create exceptional full-stack web and mobile applications.
They let you hire Full stack developers with the skills and expertise you need to develop best-in-class Full-Stack web applications. Leading companies hire Zignuts Technolab to drive and achieve their critical mobile app development projects successfully.
With many years of knowledge and expertise in the field, they can develop the best Full Stack development solutions through various Full Stack development technology stacks (LAMP, MEAN, LEMP, MERN, etc.)
Radiansys Inc
Radiansys provides thorough full-stack development services to companies looking to upgrade their business operations and provide better customer service. In addition to full-stack development, they also offer full-stack consulting and Agile Model development of sustainable, customized solutions.
They have developed full-stack solutions for numerous industries, contributing to their unrivaled competence in this field. Radiansys can create any frontend solution you require, including those for eCommerce platforms.
They facilitate regular code pushes, conduct biweekly sprints, and adhere to the CI/CD paradigm for quick build installation and delivery. App, solution architecture, consultation, financial services, AWS, and other services are all included in their range of offerings.
Zazz
Zazz is a professional web development business that offers a wide range of backend services in addition to frontend prototypes and software building using different technologies.
Every business aspires to grow quickly, and with their full-stack development services, that goal is achievable. Our full-stack developers have the in-depth knowledge and expertise necessary to create complete applications for your business.
Colan Infotech
To create high-performing applications, Colan Infotech's technical team makes use of tech stacks like MEAN, MERN, LAMP, LEAN, etc. The company's SLA-driven methodology and on-time project delivery are highly regarded by its clients. Additionally, the business offers full support for the entire planning process, including program management, quality control, and consultancy. Their full-stack developers have perfected the abilities and technological expertise necessary to create results online and mobile app solutions. Also, provide an outstanding user experience after cooperating with 450+ clientele from various sectors. The company offers mern stack development solutions to any industry sector, from startups to substantial-tech giants, aiding in the flawless production of digital goods.
Technology Bench
With a staff with ten years of experience in the creation and execution of cutting-edge computer technology offerings for incorporated, mobile, and web apps, Technology Bench is an international software company focused on IT consultancy and offshore software services. The support staff at Development Bench have now finished implementing several internets and mobile solutions for their main clients.
Guarana Technologies
With operations in Toronto and Montréal, Guarana Technologies is the top developer of mern stacks. However, their experienced group of developers focuses on creating native Apple and Android apps.
They have deep knowledge of numerous technical advancements from creating more than 40 apps annually.
Dreamztech Solutions
Dreamztech Solutions is renowned for designing fully-fledged custom online and mobile applications that aid businesses in streamlining operations and boosting productivity.
Whether they are web-based or mobile-based apps or enterprise software development. The business delivers full-stack development services to clients all around the world. It adheres to an agile software delivery strategy.
In India's Growth Champions award program for 2020, Economics Times and Statista rated DreamzTech. They offer both with a 60% faster time to market and 100% superior mobile app development services. In addition to planning, developing, administrating, and hosting mobile applications, the company provides full-cycle planning, development, and hosting services. They have produced more than 500 mobile apps to date for various industries.
Hashcash Consultants
In the blockchain industry, they are the most seasoned and one of the biggest Global Agencies for Financial and Technical Services. Their full-stack development services offer legal, marketing, finance, introductions to investors, and blockchain app development. The HashCash Blockchain1o1 initiative and the Satoshi Angels investment arm foster blockchain development. The best-in-class Autonomous finance apps for organizations are consistently delivered by their group of Blockchain experts. The creation of solutions that offer notable cost-efficiency, a decrease in turn-around time, digitization, digital security, and visibility alter how financial assets are used. Global enterprises are empowered by their distinctive vision.
Conclusion
We have created a list of leading 12 mern stack development companies. You can use it as per your objectives and budget. Before taking any decision, check out the company's website, client testimony, services, top mern stack project, etc., to make a better decision to hire mern stack developer.