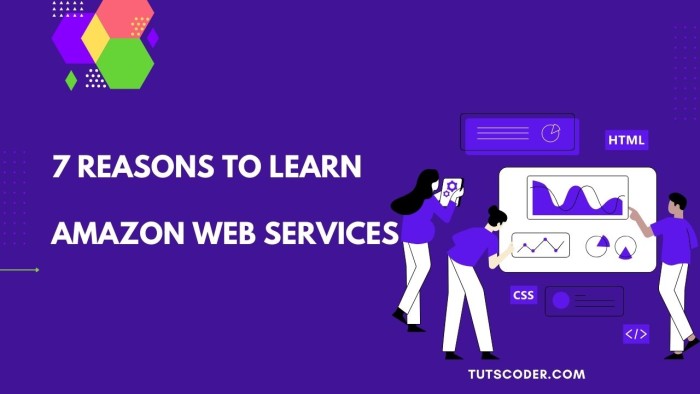 7 Reasons Why You Should Learn Amazon Web Services (2023)
In today's digital age, cloud computing has become a vital component of businesses worldwide.
Amazon Web Services (AWS) is one of the leading providers of cloud services and is widely used by companies of all sizes.
If you're considering a career in the tech industry, learning AWS could be an excellent decision for you. In this article, we'll explore seven reasons why learning AWS in 2023 could help you advance your career.
What is AWS?
Amazon Web Services, or AWS, is one of the largest cloud services in the world, and it's used by major companies like Netflix and Spotify to run their entire businesses. Amazon has made it free to try for 12 months with no commitment—why not give it a go? Here are seven reasons why you should learn Amazon Web Services now.
Also read, The 6 Best Project Ideas To Learn AWS In 2023
AWS is in high demand
Cloud computing is a hot topic these days, and it's not hard to see why. The cloud has revolutionized how we store and share data, access information, work with others, and communicate.
But there are many different types of cloud services out there: Platform as a Service (PaaS), Software as a Service (SaaS), Infrastructure as a Service (IaaS) ... the list goes on.
Read more, Different Types Of Cloud Service Models And Their Uses
AWS has highly paid jobs
Amazon Web Services is a Cloud computing platform that's proven to have higher paying jobs than its competitors.
AWS also has an in-demand skillset that's been growing by leaps and bounds as companies are quickly adopting serverless technology.
AWS skills are transferable
Amazon Web Services is a comprehensive set of services that includes compute power, database storage, content delivery and much more.
AWS offers many security benefits from encryption to data protection. AWS skills are transferable meaning you can use your knowledge of cloud computing with other providers such as Microsoft Azure or Google Cloud Platform.
AWS Certifications are valuable
Getting a certification in AWS certifications is valuable because it will look good on your resume and can help you get a better job. Plus, it is necessary for people who want to work with cloud computing technology like serverless architectures.
AWS can be learned by everyone
Amazon Web Services is the most popular cloud computing platform in the world. AWS can be learned by everyone and it's a great way to learn how to code and use different languages.
There are a lot of benefits of learning AWS because you're getting a good understanding of serverless architecture, which will be on the rise in 2023.
AWS is a scalable skill
AWS is a scalable skill. It's the world's leading cloud provider and among the fastest-growing, according to Synergy Research.
Start by learning about one topic, such as Elastic Compute Cloud (EC2), and then move on to another like Simple Storage Service (S3). The more you learn, the more in demand you'll be.
The cost of learning AWS is low
One of the great things about learning AWS is that it's free to get started.
If you're just dipping your toes in the water, you can sign up for a free trial and access thousands of tutorials and videos on their website.
This will give you a good overview of what's possible with AWS, as well as how to make it happen. And if you decide AWS is not for you, there are no strings attached--you can cancel your account at any time without owing anything!
Conclusion:
learning Amazon Web Services can be a valuable investment in your career.
With a high demand for AWS professionals, a wide range of services, cost-effectiveness, flexibility, and scalability, user-friendly interface, strong community support, and certification opportunities, you have plenty of reasons to consider AWS as your next learning path. As the world continues to rely more on cloud technology, learning AWS can open doors to exciting career opportunities in the tech industry.